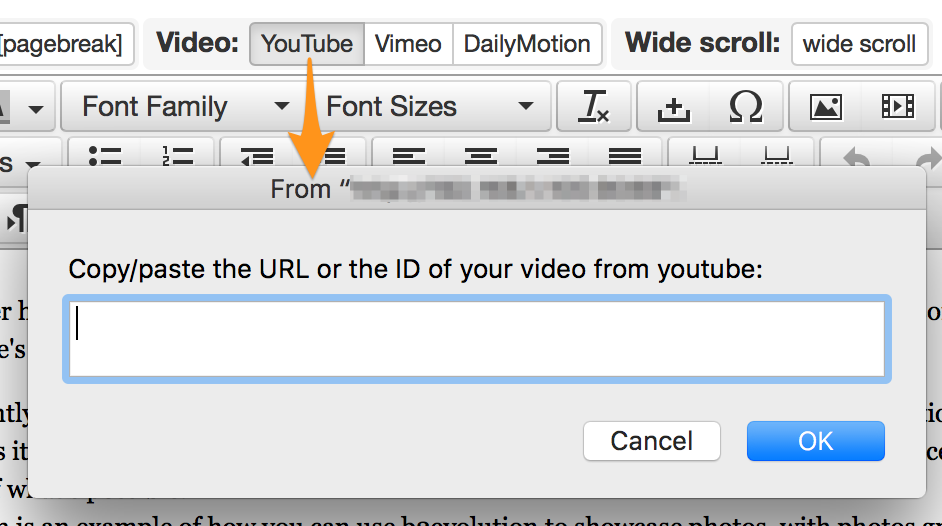 This is a basic video plug plugin that allows to embed a Youtube, Vimeo or DailyMotion video into a post.
Use it by entering [video:youtube:123xyz] or [video:dailymotion:123xyz] into your post, where 123xyz is the ID of the video.
You can also use the toolbar provided by the plugin.
Per blog settings

This section contains two options: Apply rendering to posts and Apply rendering to comments, wherein you can choose from the drop down menu how you wanted your video plug plugin rendered in your posts and comments.
The Video Plug Plugin is a basic component that allows easy video embedding of some supported video sites. If you want to use this plugin, simply use the format video:vidsite:123xyz into your post, where vidsite is the supported video site such as youtube and 123xyz is the ID of the video.
The drop down-menu for both options contain the following choices:
stealth
always
opt-out (default setting for applying rendering to posts and comments)
opt-in
automatic
never
For more information about the rendering options, read about it at the Plugin/Apply Rendering page.
Technical details
Classname: videoplug_plugin
Class file: plugins/videoplug_plugin/_videoplug.plugin.php
2 comments

Hi, I am trying to get a video thumbnail to go in the excerpt of posts on my main page. Is there a way I can tweak video plugin to achieve this? Many thanks

Works well however, this plugin needs to be updated to be responsive moving forward..