The Disqus plugin allows you to use comments from the social commenting website Disqus. The plugin inserts some javascript that will display the number of comments on a particular blog post when viewing a blog and a comment entry form when viewing a particular blog post. Comments can be enabled and disabled on a per comment basis. Find out more about what Disqus does here. You can check out a blog post to get an idea of what Disqus can do here.
| | |
| --- | --- |
| Author: | Ian Lewis |
| Last tested in version: | 5.0.8 |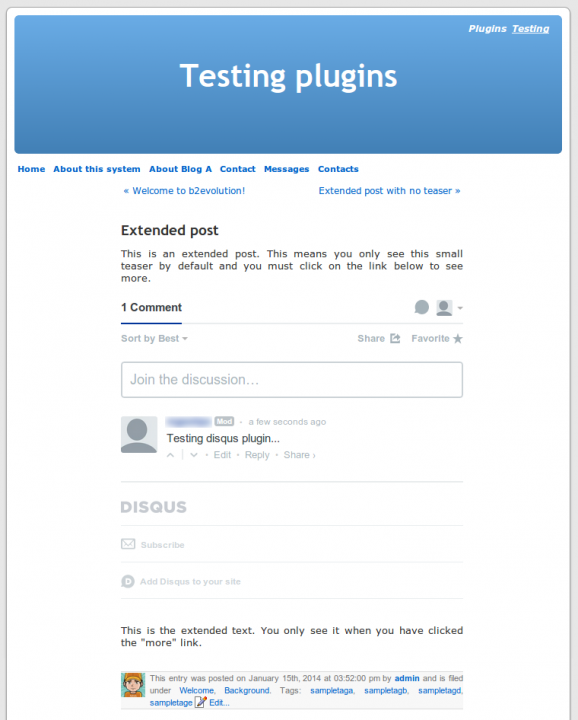 What is Disqus?

From the Disqus homepage:
Disqus, pronounced "discuss", is a service and tool for web comments and discussions. The Disqus comment system can be plugged into any website, blog, or application. Disqus makes commenting easier and more interactive, while connecting websites and commenters across a thriving discussion community.

Disqus is a free service to the general public with absolutely no inline advertisements. A premium service for large-scale websites is in the works but is not yet available.
Requirements
2 comments
Comment from:
Robin Smidsrød
Visitor
Is this plugin supposed to work with b2evolution 3.3.3? I have installed the plugin, registered with Disqus, entered the details, but the Disqus block is still not displayed on my site. Incompatible with 3.x?
This post has 2 feedbacks awaiting moderation...