No longer necessary because the functionality has been integrated into b2evolution's core.
The AdSense plugin for b2evolution lets you embed AdSense blocks into your blog posts.
Usage
All you need to do is put the cursor where you want the AdSense block and click on the AdSense toolbar button. The plugin does the rest.
Additionally, the plugin will also make sure that you do not display too many AdSense blocks on your page. For example you can set it to expand a maximum of 2 ad blocks in the blog posts and have a 3rd one reserved for your sidebar.
Plugin Configuration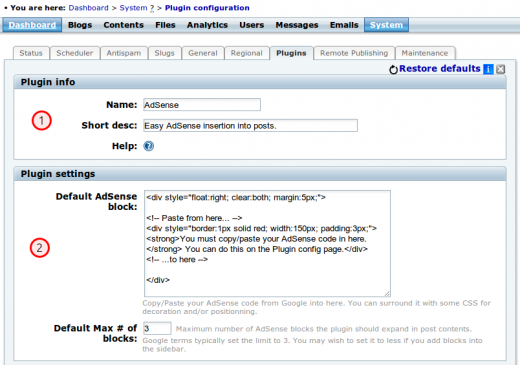 Section 1. Plugin info
Plugin specific information:
Name
Description
Help link
Section 2. Plugin settings
Default AdSense block: Copy/Paste your AdSense code from Google into here. You can surround it with some CSS for decoration and/or positionning.
Default Max # of blocks: Maximum number of AdSense blocks the plugin should expand in post contents. Google terms typically set the limit to 3. You may wish to set it to less if you add blocks into the sidebar.
Inserting an AdSense block
When editing a post in Expert Mode, you will see the "AdSense" button in the toolbar, just put the cursor where you want the ad to be inserted and hit this button.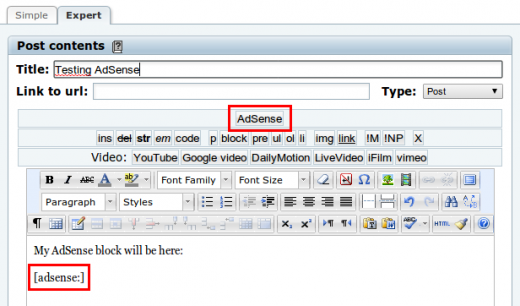 If you do not have access to the button "AdSense" at the toolbar, just type [adsense:].
Remember to check the "AdSense" option at your post's "Text Renderers" block: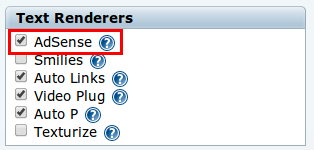 Mini FAQ
My post shows [adense:] instead the adsense block I've installed. How do I fix this?
First, try to add adsense to a new blog post. That should be very easy.
For older posts, you will have to switch to the Expert post editing mode and manually enable the Adsense plugin renderer in the Text Renders section at the bottom right of the screen.
How do I integrate AdSense into my sidebar / header / footer?
You just copy/paste the AdSense code from Google into your blog template.
The short answer is that the template is located in /skins/skin-name/index.main.php
More info about skins & templates here.
No need to download!
Note: the downloadable package is for sites running old versions, when this feature was not already built-in. If your site is below version 2, the first thing that you should do is upgrade it, but if you only want to have this feature, then add this package as any other plugin.
8 comments
I use b2evolution version 1.9.3. I can see the button but it doesn´t work and when I type [adsense:] nothing happens. I entried my google code for ads in plugin settings.
How can I do it for show google ads?
07/09/07 @ 00:03
Le plugin fonctionne parfaitement….
Il suffit de rajouter : [adsense]
à n'importe quel endroit de votre post et la pub Google se met en place automatiquement…
07/12/07 @ 21:51
can't run it on 1.8.6.. errors in the admin when you try to edit setings…
also a MORE detailed howto/usage guide would be helpful as well.
great idea, it's just that it doesn't quite work right yet. 2 stars.
10/10/07 @ 23:10
Comment
from:
Ask Your PC
[Visitor]
the plugin doesn't work for me…
11/26/08 @ 23:03
Comment
from:
Ask Your PC
[Visitor]
Okay it works now for some reason. I waited a while so it wasn't the time that it took the ads to show up…
01/10/09 @ 05:51
Where do I paste the Adsense ID? I know that it is inside the Plugin Settings Adsense Block, but it is not clear where to put it or how it should look. Please be specific because I have tried placing it in many different places and all that shows on my site is my ID number. Could you please add an example number to the code so I know exactly where to add it and how it should look? Thank you.
01/24/09 @ 08:31
Sir, I am triad to place adsense on b2evolution site, plugin dose not working for me, i am using last version of b2evolution, :(
04/30/14 @ 09:17
Comment
from:
Manuel Garcia
[Member]
Shoriful, are you using the built-in plugin?
05/06/14 @ 20:21