Using this plugin you can add the AddThis (http://www.addthis.com/) sharing bar to the contents of your site and let your visitors share them to their preferred social networks and websites.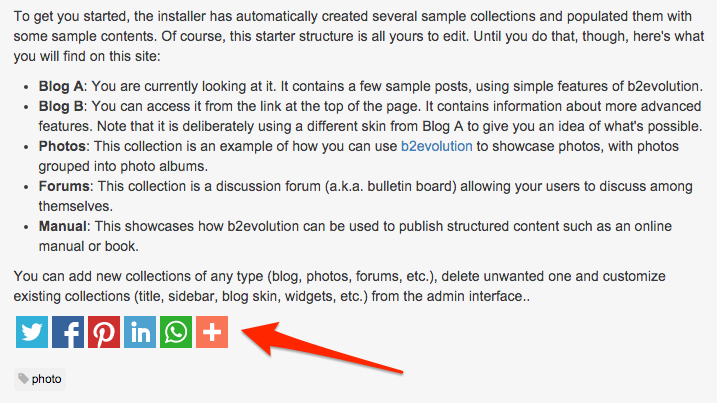 | | |
| --- | --- |
| Author: | |
| Last tested in version: | |
Installation
You can use this plugin in your site by following the regular plugins installation process detailed in this manual page: Plugins Available For Installation.
After having successfully installed the plugin in your site, you need to configure the AddThis account in order to get a PubID, which is a code with the following format: ra-XXXXXXXXXXXXXXXX.
Go to the AddThis website (http://www.addthis.com/) and register a new user account (if you have not done it yet).
Go back to your b2evolution site and open the plugins settings page of your desired collection: Plugin Settings (Per Collection / Blog)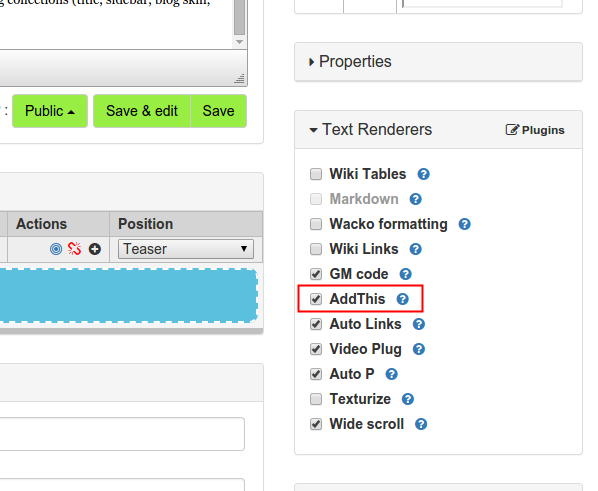 Note: as this is a Text Renderer plugin, you may control when to enable / disable it for individual posts by checking the AddThis option in the Text Renderers panel of the posts' edition form.
3 comments

Ok, it's not showing up. Is there something I need to add to my skin? I've got it set to always, have my ID number in there, enabled it for that blog, and I'm even logged into Addthis. I'm not sure what else to do.

Thanks for reporting.
Let me take a look at this and get back to you with a solution.
Regards!

Steve, if you followed the instructions above, the only think I can think on is that you are viewing a cached page, so you would need to clear the full page caches at System > Maintenance.
For a better following of your request, please create a support post at the forums (http://forums.b2evolution.net/)
This post has 2 feedbacks awaiting moderation...