Download: proof_of_work_captcha_plugin_7.1.2.zip
Downloading: proof_of_work_captcha_plugin_7.1.2.zip Proof of Work Captcha Plugin
For additional information on Proof of Work Captcha please read: https://coinhive.com/info/captcha-help
Note: You will need site and secret keys from
coinhive.com
to use this plugin.
Sample Captcha
Captcha in the user registration form
Plugin Settings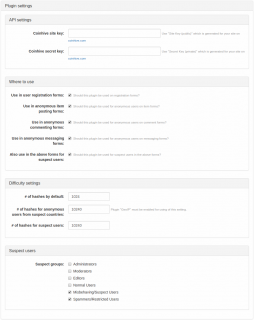 API Settings
You will need the credentials to access the required API:
Coinhive site key: enter the site key from coinhive.com
Coinhive secret key: enter the secret key from coinhive.com
Where to use
You have the option to add CAPTCHAs to the following forms:
user registration forms
anonymous item posting forms
anonymous commenting forms
anonymous messaging forms
use in the above forms for suspect users
Difficulty Settings
You can specify the number of hashes to used by default, for anonymous users from suspect countries (requires Geoip Plugin be enabled), and for suspect users included in the indicated suspect groups below.
Suspect Users
Select user groups that are suspected and whose members can have a different difficulty setting assigned to them when using this plugin.