This plugin or hack is no longer needed as the functionality it provides has been integrated directly into the b2evolution core or into another (bundled) plugin.
Do you have many files/images in your media folder? When you hit the "files" button it takes a long time to load as it loads all the files/images in the folder. What if you have a few hundreds of files...
This plugin provides a button for quick and easy files upload.
| | |
| --- | --- |
| Author | @sam2kb |
| Last tested in version | 5.0.8 |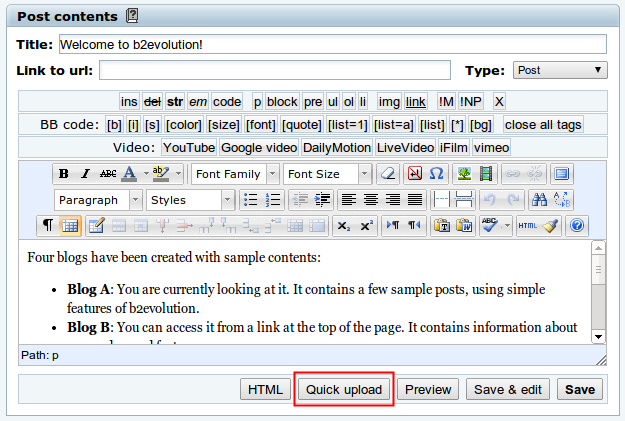 By default it uploads files in blog's media folder (if you create or edit post in Blog B all files get uploaded to /media/blogs/b or whatever is set as default media dir for this blog ).
You can also enable a directories select tree in plugin settings and choose a directory before uploading files.
3 comments
This is great! I had no idea there was such a thing.
thanks a lot, it is great