This plugin is no longer maintained.
Turing Test lets you ask your commenters and message form users a question that they have to answer correctly before they can comment or send a message. As the admin you get to decide the question, the answer, and the message someone will see if they don't give the correct answer. You also get to decide who, if anyone, will get the answer automagically filled in for them. You can pick "no one", "registered members", or "previous commenters".
| | |
| --- | --- |
| Author | @edb |
| Last tested in version | |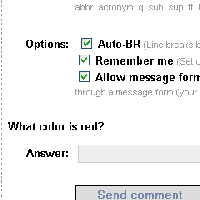 5 comments
v0.1 of this plugin has a problem with v1.9.2 of b2evolution. I'll fix it when I get some time. Sorry!
Fix is in place! Should be good to go for 1.8.6 and up now.
Where to send Russian translation?
There is a contact link at the bottom of my page. Get in touch with me through that so I can get you an email address to send it to, then I'll figure out how to add it in.
Thanks!

Plugin doesn't exist anymore, unfortunatly.