Bundled plugin:
If you're using a b2evolution version that supports this plugin, it is already in your plugins folder. There is no need to download it. If it is not installed yet, simply click
"Install new"
in
your plugin list
.
This plugin is supported only through
PRO
Support.
This plugin enables you to automatically send a tweet to Twitter.com every time you publish a new post on your blog (or in a specific collection).
In order to use this plugin you will need to have access to the Twitter API and create your own "b2evolution" Twitter app. Please read the
announcement of this requirement
.
We do not recommend using this plugin. It is complex to set up and once it works, Twitter keeps breaking it by changing their API limits and abuse detection algorithms. It needs high maintenance involvement to keep working, which is not the goal of b2evolution
| | |
| --- | --- |
| Author | |
| Last tested in version | |
Plugin Settings

API key: enter the key provided by Twitter when you created your Twitter app.
API secret: enter the API secret provided by Twitter when you created your Twitter app.
Creating a Twitter App
This plugin uses the Twitter API so you need to first create a Twitter app for your website.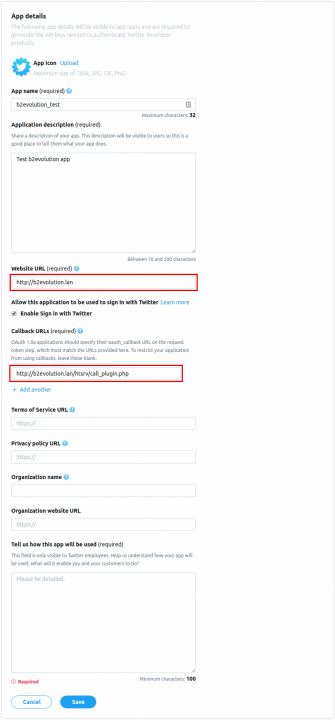 Take note of the highlighted fields. Change your settings accordingly.
For the Callback URLs field, use your website URL + /htsrv/call_plugin.php.
Once you have created your Twitter App, you will be provided with a consumer API key and API secret key. Use these keys to fill-out the System plugin settings above. You should now be able link a Twitter account for each collection in your site.
Per Collection Settings
Linking a Twitter Account to a Collection
Each Collection can be linked to a different Twitter account (if needed). It is assumed that you have already created a Twitter app and have already set the API keys mentioned above.
Start by going to the plugin setting for a specific collection.
You will find a settings block for each plugin. The one that interests us here looks like this:

The link to associate the collection to a Twitter account is only available if you already have provided the necessary Twitter API keys
Click the Click here to link to your twitter account link to associate this collection to a specific Twitter account. You will be redirected to a separate Twitter page where you can authorize your b2evolution collection to use your Twitter account (you will have to enter your Twitter username and password):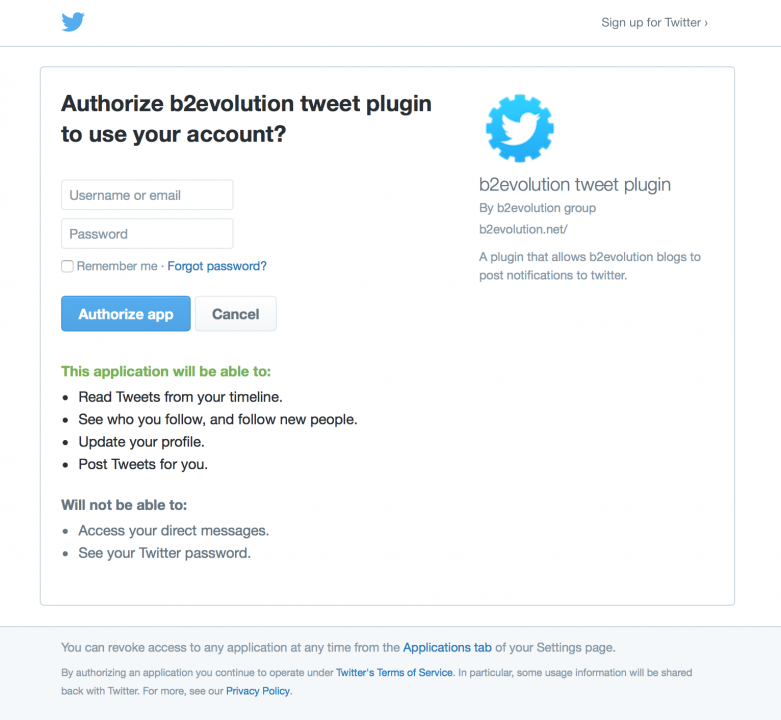 Once you have successfully linked your account, you will be redirected back to your b2evolution's plugin settings and the settings block should now look like this:

Tweet Format
You can specify the format of your "tweets" (what gets posted to Twitter) by configuring the Message format.
By default, the format is Just posted $title$ $url$ #b2p. You can edit this freely. The following variables will be replaced with the appropriate content from your new post:
$title: the title of the post/article.
$excerpt$: excerpt of the post/article content.
$url$: permanent link URL of the post/article.
When do the pings happen?
The pings are sent out when "notifications for a new post" are sent out. At this time, several "ping" plugins may get triggered.
For additional information on what happens after each new post, please see: After Each New Post Panel
1 comment