This plugin will display a toolbar with user defined buttons to quickly insert snippets of text when writing a post or a comment.
| | |
| --- | --- |
| Author | b2evo Team |
| Last tested in version | 6.11.1 |
You can add snippets through the editor plugin settings of each collection. For every snippet added, a button is displayed in the Snippets toolbar. Clicking on these buttons will insert the corresponding snippet of text into the editor. You can manage what snippets users can use by specifying a minimum user level.
Per Collection Settings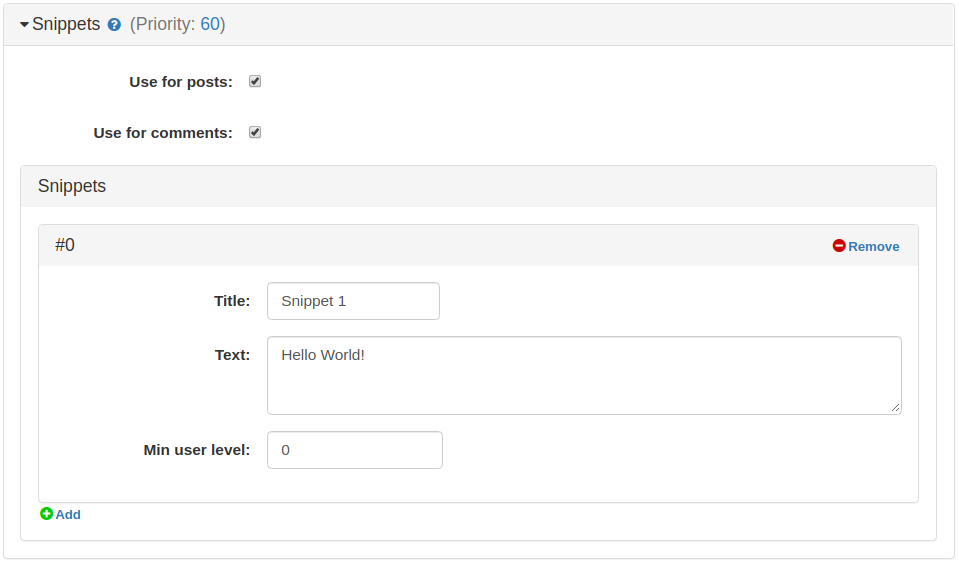 You can manage the use of the Snippets plugin on a per collection basis. You have to option to enable it for either posts and/or comments.
You can add your custom snippets in this panel. For each snippet, you can specify the following:
Title: the title that will appear on the button in the Snippet toolbar.
Text: the text that will be inserted into the content area of the editor.
Min. user level: users below the defined minimum user level will not be able to use this particular snippet.